About refugee recognition procedure
A "refugee" is defined by the Refugee Convention as a member of a race, religion, nationality, or specific social group. or with a well-founded fear of persecution for political opinions. A person who is outside his or her country of nationality because he or she is unable to receive the protection of that country of nationality, or It is considered to be the unwanted one.
Refugee status recognition procedure is a procedure to examine and decide whether a foreigner falls under this refugee status or not.
Foreigners who have been granted refugee status are entitled to the following rights or benefits
Relaxation of some of the requirements for a permanent residence permit
Normally, a foreigner residing in Japan must (1) be of good conduct, and (2) The applicant must have sufficient assets or skills to earn an independent living.
However, foreign nationals residing in Japan with refugee status, even if they do not meet the requirements of (2) above, are not required to The Minister of Justice may, at his or her discretion, grant a permanent residence permit.
Issuance of a Refugee Travel Certificate
When a foreigner with refugee status travels abroad, he or she is required to obtain a refugee travel document. If you have a certificate of eligibility, you can enter and leave Japan as many times as you like for a period of one year after it is issued.
However, if you have less than one year remaining on your visa, you must enter Japan before the expiration date. Please be careful.
Various rights under the Refugee Convention
Foreigners who have been granted refugee status shall, in principle, receive the same treatment as citizens of the Contracting Parties and ordinary foreigners. In Japan, you are entitled to the National Pension, Child Support Allowance, Welfare Allowance and other benefits. In Japan, you are eligible to receive the national pension, child support allowance, welfare allowance, and other benefits, and you will receive the same treatment as the Japanese.
Refugee status is granted not only at the time of entry into Japan, but also in Japan by the local government with jurisdiction over the applicant's place of residence. This can be done at an immigration office, a branch office or a local office.
This recognition is based on the documentation submitted by the applicant, so the person applying is a refugee The refugee investigator must personally prove that the refugee has been arrested and arrested. If the materials submitted are not sufficient to establish the case, the Refugee Surveyor will be able to provide the refugee agency with You will be referred to a public office for investigation. Normally, foreign nationals who have been granted refugee status are granted the status of a permanent resident. Also, even if you are not recognized as a refugee, if there is a circumstance that requires you to stay in Japan, you will be referred to the Ministry of Justice. If you are granted a special permission to stay in Japan, you may be granted a special permit. A residence card will be issued to applicants whose period of stay exceeds three months.
Permission to stay temporarily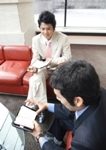 When a foreigner who has not yet obtained a status of residence, such as an illegal alien, applies for refugee status, the legal In order to stabilize your position, the day you landed in Japan (if you became a refugee while you were in Japan, you will be able to tell the fact that you Those who have applied for refugee status within 6 months from the date they learned of the refugee status, or who are at risk of persecution under the Refugee Convention In the case of those who have entered Japan directly from the territory where they came from, they are granted provisional status as a pending refugee status application. In the meantime, deportation proceedings will be suspended.
However, those with a provisional permit of stay will be restricted in terms of residence and activities, and will not be allowed to work in the designated areas. Except for those who are prohibited from doing so, and if requested by a refugee investigator to appear at a specified time and place You will be subject to a number of restrictions, including the obligation to appear in person and cooperate with the refugee status process.
As a general rule, the provisional period of stay is 6 months, but applications for renewal are accepted up to 10 days before the permit expires. If you wish to renew your visa, you must apply to the immigration office that has jurisdiction over your area of residence It will be.
Our office can assist you in the process of refugee status recognition. Please feel free to contact us for more information.